The 2020 Subaru Love Promise Customer and Community Commitment Award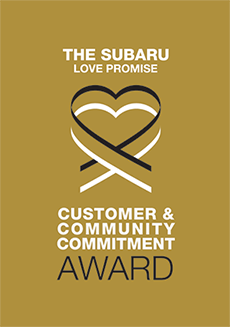 We've been nationally recognized for our dedication to our customers, our community, and the Subaru Love Promise.
We're honored to receive the 2020 Subaru Love Promise Customer and Community Commitment Award. This award nationally recognizes elite Subaru retailers who provide an exceptional customer experience at every interaction with Subaru. These retailers have also demonstrated an outstanding commitment to supporting passions and causes in their local communities in important areas such as the environment, community, health, education, and pets.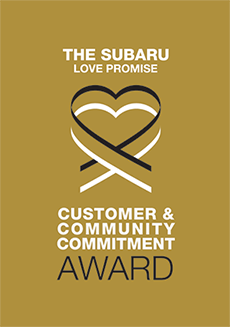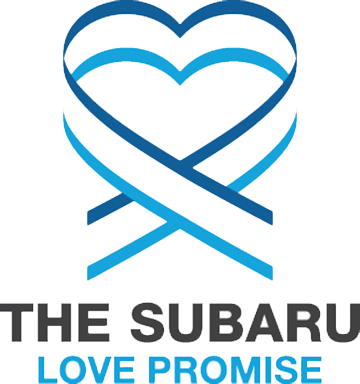 What is the Subaru Love Promise?
Subaru and our retailers believe in making the world a better place and the Subaru Love Promise is our vision of respecting all people. This is our commitment to show love and respect to our customers and to work to make a positive impact in the world.
How is Fairway Subaru dedicated locally to the Love Promise?
Our Love Promise can be seen in various partnerships with local charities and non-profits. We're grateful for the opportunity, not only to be a part of our community, but to serve it as well.
Love Promise Stories from Fairway Subaru
Subaru and Fairway Subaru believe in making a positive impact on the communities in which we live and work. We uphold that belief through our Love Promise Community Commitment. Every month, we select inspiring stories from customers and partners from around our area who strive to support our collective commitment and feature them here
Fairway Makes Commitment to Student Literacy - Jeremy S
The students at Weatherly Elementary received a "treat" this Halloween season as Fairway Subaru donated five boxes of books to the elementary school located in Carbon County. The donated books, primarily focusing on the areas of science, technology, engineering, and math have made a wonderful addition to classroom libraries! The students and their families are very thankful for additional resources to help students connect with classroom material! Thanks Fairway Subaru!
---
Make a Dog's Day - Andy A
Subaru is proud to establish the first-ever National Make A Dog's Day October 22nd. As part of Subaru Loves Pets month, we're inviting all dog lovers to do something extra special for their furry best friends. Plus, Subaru will be focusing our efforts on helping the hardest-to-adopt shelter Dogs –those with special needs-find homes. Get ready to fall in love withThe Underdogs. #MakeADogsDay Meet Gabi! Gabi has been at the Humane Society of NWGA (Northwest Georgia) for seven years. If you asked the volunteers to pick their favorite animal at the shelter, Gabi would win hands down. She does not do well with dogs or cats so must be the only animal in an adult only family. She loves people and will bond very quickly to you. Gabi would make someone a great companion. She is waiting patiently for her forever home. If you have room in your heart and your home for this sweet girl then please fill out an adoption application, highlight and right click this link: https://hsnwga.org/adoption/application-for-adoption/?fbclid=IwAR2Ie18p6U3ryKi-niIuIZFTd-waD98xrySl7IJmiRBXE239WP7dpODubiU #MakeADogsDay #SubaruLovesPets #TheUnderdogs
---
Fairway Subaru & LLS bring love to LVH! - Kyrsten K
On Wednesday, June 26 The Leukemia & Lymphoma Society Eastern PA Chapter and Fairway Subaru had the pleasure of delivering 80 blankets and several arts & craft kits to the Lehigh Valley Health Network Cancer Center –Hazleton as part of the Subaru Loves To Care program. These comforting gifts were accompanied by personalized messages of hope written by the customers and staff of Fairway Subaru. This incredible act of generosity was warmly received by the Lehigh Valley Health Network Cancer Center staff who were thrilled to distribute these comforting gifts to their patients. Many thanks to everyone at Fairway Subaru and the Lehigh Valley Health Network Cancer Center not only for a memorable day, but for supporting LLS's mission to cure blood cancers and improve the quality of life of patients and their families.
---
Fairway Subaru Grants 3 Magical Wishes! - Maggie O
This year, as the 2019 Share the Love Hometown Charity partner, Make-A-Wish Greater PA & WV received an all time high gift of $12,817.00 in support of 3 life affirming wishes for children from NEPA. We are so grateful to Fairway Subaru for this incredible continued support of our wish granting program. Our amazing wish kids are the reason we do the work that we do. We strive to provide these children a much-needed respite from their illness and offer them hope and strength along the way. Ten-year-old Joseph, from Hazleton is one of these brave kids. Joey is happy boy who loves animals, listening to music and blowing bubbles. Although Joey is non-verbal, he communicates with his family and friends by nodding his head, lifting his legs and flashing his wonderful smile. When considering his one-true-wish, his family shared Joey smiles whenever bicycles are mentioned. He once test drove a specially-designed bike at school and took to it like a natural. This feeling of accomplishment and determination was enough for Joey to wish for his very own adaptive bike. Joey loves the feeling of being active and this new bike was the perfect way for him do just that. His bike has given him a newfound sense of freedom and happiness. Having the ability to get exercise and simultaneously putting a smile on his face is more than enough to see that Joey's wish was a dream come true. The "force" is strong in twelve-year-old Michael from Drums. Mike doesn't let the challenges of a genetic disorder stop him from developing his strong Jedi powers. In addition to his love of all things Star Wars, Mike likes playing basketball with his friends, eating pizza and reading books like Harry Potter. When our volunteers first met Mike, he had already planned his perfect wish, a trip Walt Disney World® for a magical Star Wars adventure! Upon arrival, Mike and his family arrived at Give Kids the World Village, a spacious resort designed just for sick kids and their families. Mike was excited to get his first day started, making his way all the theme parks where he was free to go wherever he desired. Thanks to his Make-A-Wish t-shirt and button, he enjoyed extra privileges, such as access to different lines for rides and the chance to spend time with his favorite characters like Darth Vader and Chewbacca. While at Universal Studios Harry Potter World Mike couldn't contain his excitement. His love for all his favorite magical characters is why this trip was so important to him. Mike's mom couldn't help but notice the strength and bravery in all of Mike's favorite characters, and how he had all those same qualities in him too. Though she may be little, two-and-a-half-year-old Temprince, from Nescopeck has a big heart and personality. Despite her recent cancer diagnosis, her family maintains a joyful spirit and looks forward to the day they can celebrate a conclusion of her treatments. Our wish volunteers are currently waving their magic wand sand spreading some pixie dust to help this little princess choose her one true wish. But what we know for certain is this once-in-a-lifetime experience will bring this little girl and her family the heartfelt joy that they deserve. We look forward to sharing magical details of her wish soon. Until then, we want to thank you once again for choosing to support our brave kids. On behalf of Joey, Michael and Temprince, thank you for making wishes come true!
---
LLS & Fairway Subaru team up to Love to Care! - Jenn P
Fairway Subaru & the Leukemia & Lymphoma Society, Eastern PA chapter were thrilled to deliver blankets to the patients of Lehigh Valley Health Network Hazelton. 80 blankets and 25 kids craft kits were delivered to the outgoing and cheerful team of the Oncology unit. With media in attendance and smiles all around, the team gave their thanks and expressed that these blankets create a lot of joy –both for the patients and their families. Thank you so much, on behalf of all the patients and families we serve.
---
Fairway Subaru Makes Local Wishes Come True! - Maggie O
The regional office of Make-A-Wish Greater PA & WV is honored to be chosen as the Fairway Subaru Hometown Charity partner. In 2018, we received an incredible donation of $9,627.90 in support of local wishes. The children we serve, children whose childhoods have been interrupted by critical illnesses, spark such determination in us as we work to provide them with a wish experience that brings them lifelong happy memories. One such child is, twelve-year-old Jordan, from Hazle Township. At any time you might find this wish kid munching on pizza, playing with toy cars and watching movies with his brother, Jayden. What brings the biggest smile to his face is the time he spends watching characters like Mickey Mouse and SpongeBob SquarePants. Singing and dancing along never fails to put him in a jubilant mood. Jordan's family told volunteers he imagines visiting the homes of Mickey and SpongeBob and perhaps even meeting the two. With that in mind, a trip to the Florida theme parkes was the perfect fit. Soon after, Jordan and his family embarked on their journey to Florida. Strapped into his seat on the airplane, Nicholas took in the scenes of the wild blue sky through his window. Upon arrival, Jordan and his family stayed at Give Kids the World, a special place for children like himself. The Village is filled with imaginative structures – giant mushrooms, oversized bananas, zoo animals and trains. There is an ice cream palace and gingerbread restaurant serving up many of his favorite treats. He had not even entered the Disney theme parks and already it felt like paradise.Jordan had two very special events during his trip. First, his visit to Chef Mickey's restaurant, located in Disney's Contemporary Resort, had all the breakfast treats a kid could want, including waffles in the shape of the house of the mouse himself. This was no ordinary meal, however. As he sat down at his table, Jordan noticed Mickey entering through a side door. He could barely contain his excitement as his favorite character walked over to give him a hug and take photos. Every day of the trip was something new and exciting. Jordan and his family will always remember what a wonderful time they had together on their wish trip. We thank the team at Fairway Subura and their wonderful customers for making what we do possible!
---
Fairway Subaru donates books to local school. - Allyson T
In an effort to make a positive impact on education in our local community, Fairway Subaru supported the American Association for the Advancement of Science (AAAS) by donating award-winning science books to Heights-Terrace Elementary Middle School as part of a larger Subaru of America, Inc. (SOA) initiative this month called Subaru Loves Learning.
---
LVHN Hazelton & Fairway Subaru Loves To Care - Monique R
On July 6th The Leukemia & Lymphoma Society(LLS) of Eastern PA and Fairway Subaru of Hazelton delivered 80 Loves To Care Blankets and 12 Arts & Crafts Kits to Lehigh Valley Health Network Cancer Center in Hazelton, PA. The personnel were very exceited to receive the blankets and said the patients will be very appreciative and excited to receive them. Together Subaru and LLS with the delivery of these blankets hope to bring love and warmth to a patient who is battling cancer. Fairway Subaru and LLS by partnering together to deliver the blankets have brought some brightness into the day of a cancer patient.
---
Subaru and NWF Loves the Earth - Marian P
Thank you Fairway Subaru for donating the garden elements to our school! the students love getting their hands dirty and planting our garden.
---
VALOR Backpack drive. - Jeffrey S
I had attended a stand down event in East Stroudsburg, Pa. A stand down is the term used for when VALOR goes to a community on the same day every month and sets up clothing, blankets, coats, sleeping bags, food and toiletries for the homeless in the area. At the Nov 13 stand down we had 48 homeless adults go through the donations and pick out items that they needed. But for the first time in 2 years, the stand down had 27 children pass through the event. I was talking with Amy Bamford, and we both were taken back by the amount of children that came. Amy was not prepared to give clothing and supplies to that amount of children. While talking with her, Amy said that she wished there was something that could be done just for the children. We decided to do a backpack drive. The 104 donated backpacks have a toy and a candy bar inside. The backpack also serves as a place for these children to keep their things in. I have passed out these backpacks to children, their faces are faces of sadness. When they get their backpack their eyes light up, smiles replace frowns and they are happy at that moment. The parents are very thankful to us for this effort and they make that known to me every single time.
---
Fairway Subaru Loves Learning - Freeland E
Fairway Subaru is proud to partner with Freeland Elementary School by donating 125 books to the school. As a part of this initiative, Fairway Subaru is taking part in the Subaru loves Learning book donation event. A program designed to donate 4 outstanding, prize-winning books to schools with the goal of engaging young learners in the world of science and inspire them to want to learn more. These books are designed to supplement existing curriculum by supporting K-12 science, technology, engineering and mathematics (STEM) education, while also helping to build reading and literacy skills.
---
Subaru Loves Learning Book Drive - August 1-31 - Molly M
Join us in our Subaru Loves Learning initiative during the month of August! We are partnering with the American Association for the Advancement of Science (AAAS) in donating science books to Valley Elementary in the Hazleton Area School District. All of the books that will be donated have been recognized by AAAS as some of the best science books in their field. Contact us to learn more information.
---
Subaru Loves the Earth - E-Waste Event - Danielle S
We would like to thank our customers for participating in our E Waste Recycling event during the month of April. With your help, we were able to prevent 13,584 lbs of carbon emissions from polluting the atmosphere. This is equivalent to saving 521 trees, 2,310 gallons of gasoline, 19,692 plastic bottles, and 90,580 aluminum cans. Thank you for helping strengthen the Subaru Love Promise!
---
April 1-30, 2015 E-Waste Recycling Event - Molly M
Throughout the month of April, we are hosting an E-Waste Recycling Event in our store to collect unwanted electronics. We've arranged to work with a company who will responsibly collect, re-purpose, and recycle your electronic waste. Help us protect our environment. Just show up with your E-Waste and we'll do the rest! The first 50 customers who contribute will receive a complimentary environmental badge of ownership. We will accept: LCD Monitors, Cell Phones, Laptops, Tablets, CRTs up to 40", Video Games/Consoles, Fax Machines, DVD/VCR Players, Printers, Computer Peripherals, Switches/Routers, Cords and Wires.
---
Make A Wish Greater Pennsylvania & West Virginia - Dan C
Fairway Subaru in Hazleton is looking to make a wish come true for another child in 2015. Last year it donated more than $5,000 to the Make a Wish Foundation of Greater Pennsylvania and West Virginia. The funds went to send a terminally ill child and her family to the Give Kids the World Village, an Orlando, FL resort that caters to the wish children and their families. During their stay they had unlimited amounts of ice cream and got to play on a life-sized game of Candyland. Eight year old Lucy and her family also received VIP passes and treatment to all of the Disney parks, Sea World and Universal Studios. Those at Fairway Subaru feel privileged to help give Lucy and her family the opportunity to have her fondest dreams come true. With this year's Share the Love donation, Fairway hopes to once more make a dream come true for another child in the Hazleton area.
---