The 2021 Subaru Love Promise Community Commitment Award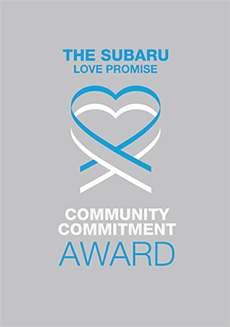 We've been nationally recognized for our dedication to our community and the Subaru Love Promise.
We're honored to receive the 2021 Subaru Love Promise Community Commitment Award. This award nationally recognizes Subaru retailers who are making the world a better place while demonstrating an outstanding commitment to supporting passions and causes in local communities. These efforts are focused in important areas such as the environment, community, health, education, and pets.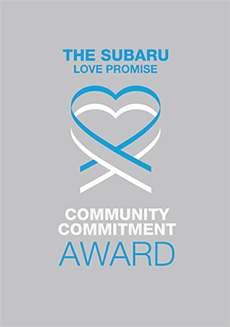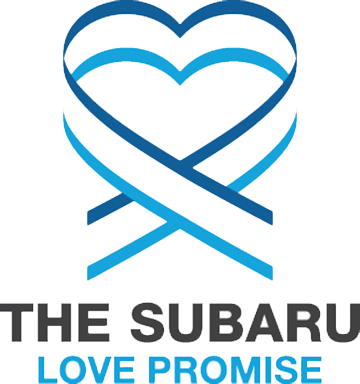 What is the Subaru Love Promise?
Subaru and our retailers believe in making the world a better place and the Subaru Love Promise is our vision of respecting all people. This is our commitment to show love and respect to our customers and to work to make a positive impact in the world.
How is Fairway Subaru dedicated locally to the Love Promise?
Our Love Promise can be seen in various partnerships with local charities and non-profits. We're grateful for the opportunity, not only to be a part of our community, but to serve it as well.
Love Promise Stories from Fairway Subaru
Subaru and Fairway Subaru believe in making a positive impact on the communities in which we live and work. We uphold that belief through our Love Promise Community Commitment. Every month, we select inspiring stories from customers and partners from around our area who strive to support our collective commitment and feature them here
Making wishes come true - Maggie O
Make-A-Wish Greater Pennsylvania and West Virginia, is delighted to once again partner with Fairway Subaru and Share the Love Hometown Charity campaign. This years generous donation 13,044.57 will help us grant life-affirming wishes for 3 local children. Including , eleven-year-old Bryannah from Hanover Township lives with the challenges of a epilepsy. Some of her favorite things include spaghetti from the Olive Garden restaurant, listening to her favorite singer, Blake Shelton, and watching the TV show, The Voice. When Bryannah and her family met with their wish team, Bryannah was so excited to wish for her very own entertainment room to provide hours of endless escape and cinematic adventure. This personal entertainment oasis includes a high-tech home theater system, complete with a giant screen, custom theater seating a popcorn machine, snack bar, blackout curtains, bean bag chairs and more! Thanks to donors like you, Bryannah and her family are enjoying nonstop movie marathons, sing-a-longs, buttery popcorn, and cotton candy. But most of all she and her family have experienced the magic and wonder of a dream come true. When twelve-year-old Jessica from Mountain Top met with her wish granting volunteers, she shared her dream of swimming in crystal blue waters, sitting under the stars and exploring the luscious landscapes. After some careful consideration and a sprinkle of pixie dust, Jessica knew a week of adventure in the tropical paradise of Hawaii was just what her heart desired. When the time comes, Jessica and her family will be travelling to the sun-kissed island of Oahu, where they will be greeted with traditional leis and escorted to their luxury accommodations. During her stay, Jessica will enjoy attending a luau with fire dancers and sampling new and exotic foods. Exploring real life volcano and watching sea turtles frolicking on the beach. She is especially looking forward to scuba diving in a glass bottom boat and viewing a sky of sparkling stars from the world-famous observatory. But most of all she is looking forward to a week of making marvelous memories with her family and saying aloha to newfound hope. Wish details are still coming together for 15-year-old George from Hazleton. This brave young boy is currently healing from a kidney transplant and prioritizing his health and wellness. His mom tells us he is staying active playing video games, watching his favorite movies, and listening to hip hop music. Just as soon as he is able, George is looking forward to celebrating a successful surgery with Mexican food and ice cream. George is also looking forward to exploring ideas for his once-in-a-lifetime wish and experiencing the magic donors like you make possible. We want to thank the team at Fairway and their loyal customers for choosing to support our brave kids. On behalf of Bryannah, Jessica and George, from the bottom of our hearts, we thank you for making wishes come true!
---
Our Rocontact the Hazletoco - Hazleton Animal Shelter Assoc H
Our Rocco was brought into the Hazleton Animal Shelter on June 4, 2020. An animal lover picked him up in Larksville where he was running the streets. He was very thin and his legs were scraped from running. We are not sure how long he was running for. Rocco is a very loving and docile animal. He loves to play catch and most afternoons you can find him trying to sit or lay in his cat bed in the sun. It is quite a site because Rocco is not a small animal. He has since gained weight which we at the shelter like to call muscle and his legs have healed. Rocco still resides at the Hazleton Animal Shelter with his other Furry Friends looking for their forever homes. If you are looking for a friendly dog then Rocco is your boy. Please contact the Hazleton Animal Shelter if you would like more information on Rocco or one of our other Furry Friends!
---
Hazleton Area Track & Field records board - Chris K
Fairway Subaru generously donated the funding required to make a large board to display all-time records for Hazleton Area High School's Track & Field team. It displays every event's all-time school record outside Hazleton's Track & Field facility.
---
Fairway Subaru Blanket Donation - Amanda D
Fairway Subaru partnered with Catholic Social Services Divine Providence Homeless Shelter to provide blankets for those in need.
---
Fairway Subaru Shares the Love with Make-A-Wish - Maggie O
Once again, Fairway Subaru chose the local Make-A-Wish chapter as its 2019 Hometown charity partner and continued their commitment in helping us grant wishes for children with critical illnesses. Thanks to their generous gift of $15,743 they made life-affirming wishes possible for the following 3 local children! Sophie from Hanover Township is a sweet three-year-old who loves bright colors, dogs and playing outside with her sister, Maddy. When our wish team met with Sophie and her family to discuss her magical wish, they all agreed a bedroom makeover fit for a princess was just what the doctor ordered. When considering her décor options, they needed to look no further than Sophie's favorite Sesame Street character, Abby Cadabby. Although Sophie's medical condition limits her ability to communicate, it's easy to see her light up with smiles and giggles when watching her favorite show. Imagine her joy when she walked into her pink, purple, and blue Abby Cadabby themed bedroom! Her once gray walls are now pink on two walls and purple with a wide, blue zig-zag line through it on the other two walls. New, thickly padded, soft carpeting and a blue play mat to protect her if she falls. She has a beautiful dresser and mirror, nightstand, daybed with an upholstered cushion insert and under bed storage and crib. Best of all is all the Abby Cadabby details including her bedding, curtains, shelves, lamps, pictures, alarm clock, pillows and more! When Sophie first entered the room, she exclaimed one of her few words, "Abby!" and immediately started opening drawers and exploring the room. Thanks to your support Sophie now has furniture to grow with, a room she can safely play in, and a place of comfort for any challenging days ahead. Fifteen-year-old Destiny from Edwardsville is a typical teenage girl. Her favorite color is yellow, she loves playing video games, drawing, snacking on Jolly Ranchers and listening to her favorite band, K Pop sensations, BTS. Due to the effects of her cancer treatments, Destiny spends her free time relaxing at home. After considering all the possibilities for her one-true-wish, Destiny decided what she wanted most of all was a new computer center for maximum home entertainment for years to come. Together with her wish team, Destiny selected the very best HP computer, printer, desk, ergonomic chair and accessories to create her perfect dream space. Seated in her luxury chair, with her stylish red headphones and funky yellow storage accessories, Destiny has the perfect space to make art, play games and stream her favorite music and concerts. She celebrated this special occasion along with her mom and wish team with an ice cream cake that announced, "Wishes do come true!" As a bonus gift, her volunteers did not forget her love of BTS and surprised her with a goodie bag full of BTS swag! Destiny whole-heartedly loves how her wish turned out and feels positive about her future. Although five-year-old Jayden from Hazleton lives with the physical challenges of a genetic disorder, he is a happy boy who loves being read to, swimming and singing country songs. He is a smart little guy, loved by his teacher and fellow students. Because Jayden loves water and swimming, he knew that would be a big part of his wish. After careful thinking and research, it became clear that Jayden's one true wish is to visit Morgan's Wonderland. As soon as possible, and his family will be off to sunny San Antonio Texas and our country's first "ultra-accessible" theme park. Jayden will experience an environment free of physical barriers and will make memories that will last a lifetime. On behalf of Sophie, Destiny and Jayden, we thank you all for believing in the magical power of a wish!
---
Weatherly Hillclimb - Ray K
Fairway Subaru has been the main sponsor of the Weatherly Hillclimb since 2004. This event is important to our town's various civic organizations. The Little League, Boy Scouts, Girl Scouts and other organizations raise money at this twice a year event. Drivers and spectators come from all over the east coast to participate in this event. It has had a very positive impact on our community. With Fairway Subaru's help we are able to keep this event growing every year.
---
Fairway Makes Commitment to Student Literacy - Jeremy S
The students at Weatherly Elementary received a "treat" this Halloween season as Fairway Subaru donated five boxes of books to the elementary school located in Carbon County. The donated books, primarily focusing on the areas of science, technology, engineering, and math have made a wonderful addition to classroom libraries! The students and their families are very thankful for additional resources to help students connect with classroom material! Thanks Fairway Subaru!
---
Make a Dog's Day - Andy A
Subaru is proud to establish the first-ever National Make A Dog's Day October 22nd. As part of Subaru Loves Pets month, we're inviting all dog lovers to do something extra special for their furry best friends. Plus, Subaru will be focusing our efforts on helping the hardest-to-adopt shelter Dogs –those with special needs-find homes. Get ready to fall in love withThe Underdogs. #MakeADogsDay Meet Gabi! Gabi has been at the Humane Society of NWGA (Northwest Georgia) for seven years. If you asked the volunteers to pick their favorite animal at the shelter, Gabi would win hands down. She does not do well with dogs or cats so must be the only animal in an adult only family. She loves people and will bond very quickly to you. Gabi would make someone a great companion. She is waiting patiently for her forever home. If you have room in your heart and your home for this sweet girl then please fill out an adoption application, highlight and right click this link: https://hsnwga.org/adoption/application-for-adoption/?fbclid=IwAR2Ie18p6U3ryKi-niIuIZFTd-waD98xrySl7IJmiRBXE239WP7dpODubiU #MakeADogsDay #SubaruLovesPets #TheUnderdogs
---
Fairway Subaru & LLS bring love to LVH! - Kyrsten K
On Wednesday, June 26 The Leukemia & Lymphoma Society Eastern PA Chapter and Fairway Subaru had the pleasure of delivering 80 blankets and several arts & craft kits to the Lehigh Valley Health Network Cancer Center –Hazleton as part of the Subaru Loves To Care program. These comforting gifts were accompanied by personalized messages of hope written by the customers and staff of Fairway Subaru. This incredible act of generosity was warmly received by the Lehigh Valley Health Network Cancer Center staff who were thrilled to distribute these comforting gifts to their patients. Many thanks to everyone at Fairway Subaru and the Lehigh Valley Health Network Cancer Center not only for a memorable day, but for supporting LLS's mission to cure blood cancers and improve the quality of life of patients and their families.
---
Fairway Subaru Grants 3 Magical Wishes! - Maggie O
This year, as the 2019 Share the Love Hometown Charity partner, Make-A-Wish Greater PA & WV received an all time high gift of $12,817.00 in support of 3 life affirming wishes for children from NEPA. We are so grateful to Fairway Subaru for this incredible continued support of our wish granting program. Our amazing wish kids are the reason we do the work that we do. We strive to provide these children a much-needed respite from their illness and offer them hope and strength along the way. Ten-year-old Joseph, from Hazleton is one of these brave kids. Joey is happy boy who loves animals, listening to music and blowing bubbles. Although Joey is non-verbal, he communicates with his family and friends by nodding his head, lifting his legs and flashing his wonderful smile. When considering his one-true-wish, his family shared Joey smiles whenever bicycles are mentioned. He once test drove a specially-designed bike at school and took to it like a natural. This feeling of accomplishment and determination was enough for Joey to wish for his very own adaptive bike. Joey loves the feeling of being active and this new bike was the perfect way for him do just that. His bike has given him a newfound sense of freedom and happiness. Having the ability to get exercise and simultaneously putting a smile on his face is more than enough to see that Joey's wish was a dream come true. The "force" is strong in twelve-year-old Michael from Drums. Mike doesn't let the challenges of a genetic disorder stop him from developing his strong Jedi powers. In addition to his love of all things Star Wars, Mike likes playing basketball with his friends, eating pizza and reading books like Harry Potter. When our volunteers first met Mike, he had already planned his perfect wish, a trip Walt Disney World® for a magical Star Wars adventure! Upon arrival, Mike and his family arrived at Give Kids the World Village, a spacious resort designed just for sick kids and their families. Mike was excited to get his first day started, making his way all the theme parks where he was free to go wherever he desired. Thanks to his Make-A-Wish t-shirt and button, he enjoyed extra privileges, such as access to different lines for rides and the chance to spend time with his favorite characters like Darth Vader and Chewbacca. While at Universal Studios Harry Potter World Mike couldn't contain his excitement. His love for all his favorite magical characters is why this trip was so important to him. Mike's mom couldn't help but notice the strength and bravery in all of Mike's favorite characters, and how he had all those same qualities in him too. Though she may be little, two-and-a-half-year-old Temprince, from Nescopeck has a big heart and personality. Despite her recent cancer diagnosis, her family maintains a joyful spirit and looks forward to the day they can celebrate a conclusion of her treatments. Our wish volunteers are currently waving their magic wand sand spreading some pixie dust to help this little princess choose her one true wish. But what we know for certain is this once-in-a-lifetime experience will bring this little girl and her family the heartfelt joy that they deserve. We look forward to sharing magical details of her wish soon. Until then, we want to thank you once again for choosing to support our brave kids. On behalf of Joey, Michael and Temprince, thank you for making wishes come true!
---